If you are looking for a steel fencing product for your commercial or residential fencing project that is more stylized with a bit more strength, then an ornamental steel enclosure option might be your best bet. This style is decorative, comes in a variety of styles and can be very low-maintenance. Imperial Fence is proud to be able to offer The Montage ornamental steel systems with the protective E-coat finish available in several colors.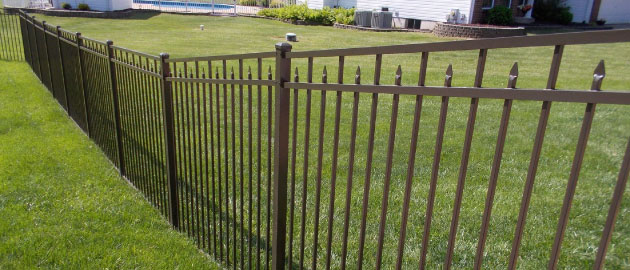 The Advantages of Steel Fencing
Requiring a professional installation procedure, a steel enclosure usually has an electro-coating, or an E-coating. Used in place of powder coating, electro-coating protects the finish and provides a vibrant color. This coating is applied after the galvanizing process. It is a complete liquid body bath that consists of an epoxy primer that significantly increases corrosion protection. An acrylic topcoat is used for further protection against adverse weather conditions. An E-coating gives 100 percent coverage to the dipped sections, coating each component inside and out.
A few of the advantages of ornamental steel solutions include:
Steel: Versatility For Added Protection
What makes steel systems so popular is its versatility and protection. It can deter trespassers with its strength and sharp finial tops, but it can be open and airy from a design perspective. It appears fragile but is really tough as steel. It is beautiful to look at, but can also withstand the hazards of lawn equipment, falling trees or playing children better than other ornamental choices.
Our Gallery of Steel Fencing
View our gallery below for a preview of our steel fence projects in the St. Louis area.